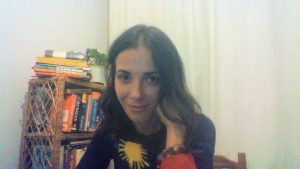 Neda Joksimovic
Director of Studies, Tower Language;                                Cambridge Certified English Teacher and Translator
English has been my passion since I can remember. It all started when I was 6 years old and when cable TV was introduced. The cartoons from America brought the English language into my world, and by the age of 8, I was able to understand and speak English fluently. Little did I know that I would end up living in England, graduating from City Islington College, London and becoming an English teacher.
I have been teaching English since 2000 and have brought my experience back to Serbia from England, Ireland and Russia. I was working for the International House, London for over 5 years, Trinity College in Dublin for 2 years, and BKC IH, Moscow, where I was a Senior Teacher for almost three years. During that time I gained all the necessary and additional qualifications in ESL teaching, such as CELTA, TRINITY TESOL, and CELTA for younger learners, and became an official ESL Cambridge Examiner in 2007.
The translation came into play upon my return to Serbia. I have become a consecutive interpreter and have been cooperating with many multinational companies in Belgrade for more than ten years. What happened next was a gigantic surprise, and I have all my gods to thank that in 2016 I was given the opportunity to translate a book from Serbian into English. It was then that I found my self-realisation. The book was published the same year under the title "Bliss, or Absolute Happiness".
At the moment I am trying to assemble a team of enthusiasts, teachers and translators who can share my mission.
And what is my mission? It is quite simple, really. I just LOVE to say to my students at the end of the advanced course: "YOU DO NOT NEED ME ANY MORE!" 🙂